el gigabyte aorus x9 llega con dos gtx 1070 en sli, teclado mecánico y un diseño ultradelgado
Display el gigabyte aorus x9 llega con dos gtx 1070 en sli, teclado mecánico y un diseño ultradelgado From Xataka Website Source and View Compact Information About this Issue. you can View source page of this News or Articles which clicking on Source link.

el nuevo portátil para gamers de gigabyte sigue la línea de otros modelos anteriores de la familia aorus, pero en la empresa han forzado la máquina para lograr un equipo que según ellos es el más delgado del mundo con este teclado mecánico y una configuración sli de gráficas dedicadas.
el gigabyte aorus x9 destaca desde luego por esos 3 cm de grosor máximo, lo que en un equipo de 17,3 pulgadas con esta configuración es desde luego todo un prodigio. el portátil cuenta con una configuración hardware excepcional que eso sí, tiene un precio elevado.
difícil dar más en menos espacio
para empezar el aorus x9 llega con un intel core i7-7820hk preparado para hacer overclocking, hasta 64 gb de ram ddr4 y hasta 1 tb de ssd en una unidad m.2 nvme combinada con otros 2 tb en una unidad de disco convencional a 7.200 rpm.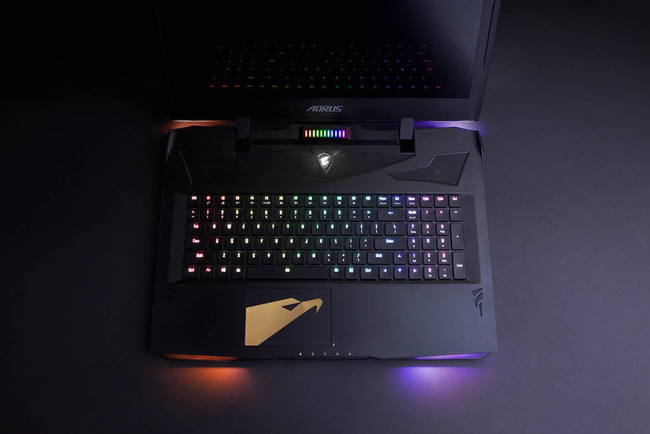 sin embargo las estrellas protagonistas de esa configuración son sus dos nvidia geforce gtx 1070 en sli, que permiten contar con una potencia gráfica sin precedentes en un portátil. esa potencia vendrá muy bien para mover los juegos en las dos opciones de pantalla: o bien una ips 4k, o bien un panel wva 1440p que además destaca por una frecuencia de referesco de 120 hz.
a esa enorme potencia gráfica se le suma la presencia de un teclado mecánico que suele ser esquivo a los equipos portátiles y que como era de esperar tiene un sistema de retroiluminación rgb configurable. la conectividad de red también está muy cuidada gracias a la tecnología killer doubleshot pro de river network, mientras que el sonido está muy bien cubierto con un quad dac ess sabre hifi con dos altavoces y dos woofers.
¿quieres puertos de conexión? toma tres tazas
esas prestaciones están encerradas en un chasis que como decimos tiene un grosor máximo de 3 cm y en el cual encontramos un sistema de cuatro ventiladores y 8 heatpipes para disipar la enorme cantidad de calor que generan estos componentes. las ranuras de ventilación en la base y parte trasera del portátil son claves para que todo el sistema se mantenga a temperaturas aceptables.
también contamos con todo tipo de opciones de ocnectividad: un usb-c con interfaz thunderbolt 3, un puerto usb 3.1 gen 2 (10 gbps), tres puertos usb 3.1 gen 1 (5 gbps), un puerto mini displayport y otro hdmi 2.0, aparte de una entrada de micrófono, salida de auriculares, lector de tarjetas sd y, cómo no, conector gigabit ethernet mediante un chipset killer e2500 y también wifi 802.11ac.
los precios, eso sí, son lógicamente altos para estas configuraciones. por ejemplo, el modelo x9-xl4k4m llega con el i7-7820hk, la pantalla 4k, las dos gtx 1070 en sli, 32 gb de ram, 512 gb de ssd, 1 tb de disco y tiene un precio de 3.649 dólares.
vía | ubergizmo
en xataka | la increíble tarjeta gráfica menguante: así es la nvidia geforce gtx 1080 de gigabyte
también te recomendamos
gigabyte t1125n. primeras impresiones del portátil-tablet-nettop-sobremesa-todo en uno convertible
la tradición musical hecha instrumento para juglares del siglo xxi
aorus thunder k7 es un teclado mecánico con pad de macros extraíble
-
la noticia el gigabyte aorus x9 llega con dos gtx 1070 en sli, teclado mecánico y un diseño ultradelgado fue publicada originalmente en xataka por javier pastor .
---
---